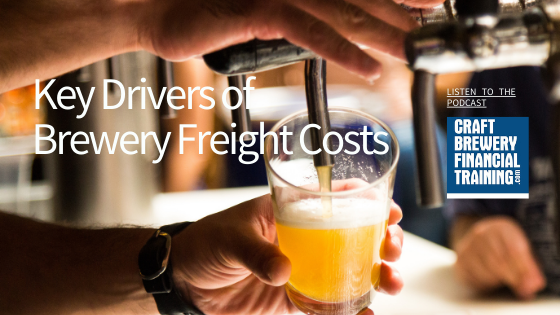 What's the common denominator in your friend group? For Pallet Parka and Brew Movers co-founders, it was craft beer. In this blog, you'll find out why Brandon Arnold and Adrian Gram started their companies and how they turned their mutual love for craft beverages into the secret weapon for breweries across the United States and abroad.
As a brewery owner or operator, optimizing your logistics process is probably top of mind—even if it feels like reaching "well-oiled machine" status is far-reaching. You're busy focusing on your passion: beer. Brew Movers and Pallet Parka take the guesswork out of chilled chain shipping and improve brewery shipping logistics, saving businesses time and money.
Pallet Parka is owned by Brew Movers, a farm-to-glass shipping and logistics company for the beer industry, and operates as a standalone brand. Both companies specialize in craft beverage shipping logistics, and packaging, and understand the unique challenges craft breweries face. Craft Brewery Financial Training Podcast, hosted by Kary Shumway, CPA, invited Brew Movers and Pallet Parka co-founders, Brandon Arnold and Adrian Gram, to share their expertise in a recent episode about freight costs. In the episode, the beer-loving duo breaks down their business model and how they work with breweries to maximize profit. Adrian and Brandon dig into the main drivers of freight costs and how brewery owners can use this knowledge to reduce business expenses.
Three key episode topics:
Primer on how freight and logistics actually work
Value-added services to look for with your freight carrier
The main drivers of freight costs (and how to use this info to save money)
Read a brief synopsis of the podcast episode below.
About Brew Movers
Adrian and Brandon met around 2014 and started a logistics company called Hatch, where they owned a fleet of trucks. Around the same time, Brandon's brother, Kyle, was working at a brewery called Southern Grist in Nashville, TN. Kyle reached out saying that they were really struggling with transportation and they didn't know if they were getting the right prices. You know, we're just brewers, Kyle told them. After Adrian and Brandon started helping out Southern Grist, their business snowballed in the best way. The brewery gave their names out to others in the industry and breweries started calling—and kept calling. Soon enough, their logistics business morphed into serving this niche market: craft beverages. Today, Brew Movers is a specialized logistics company for the craft beverage industry, including beer, wine, kombucha, coffee, and some other seltzer-type beverages. 
In 2021, Brew Movers served over 3500 breweries across North America, some in the start-up and planning phases all the way up to well-established breweries needing to ship thousands and thousands of barrels of beer across the country. They also manage import and export logistics, helping breweries get their product into international markets.
Why Brew Movers stands out in the craft beverage industry 
When Brandon and Adrian first partnered, Brandon had a long career working with some of the largest freight brokerages in the country, so he understood the ins and outs of what made those publicly traded companies work and their service models. Adrian had a longstanding, successful career in sales, marketing, and logistics. When building Brew Movers, they wanted to become a part of the craft beverage community and truly understand their pitfalls, challenges, production cycles, dosing schedules, and more. They understand the importance of preplanning logistics based on a production cycle and wanted to share their knowledge with breweries. 
Brandon and Adrian reverse-engineered their business model for Brew Movers with insight and knowledge allowing them to better understand freight times, freight costs, and everything in-between. Instead of simply managing shipping logistics, they are helping educate breweries so that they can be more informed business owners.
"We just like getting things from point A to point B and figuring out what it takes to make a final product. We've shipped lots of other stuff in our pasts—steel, fabric, different food products—but really, the beer and beverage industries are interesting in terms of logistics because you are actually seeing the final product come to fruition," Brandon said. "We help farmers get their grain to the roasters, we help the roasters get their malt out to the breweries, we help the breweries then get their kegs and cans and fruits. Once the beer is ready and put into kegs, bottles, and cans, we help them get to the distributors, and sometimes we even help the distributors get to festivals or their final destination. It's a unique situation. We are able to see the product literally from farm to glass the whole way through. I think that's what we really love about the whole process."
Adrian and Brandon truly love beer. When in business with their first logistics company, they sat around drinking beer one day and were like, let's start a company whose niche is the craft beverage industry. At the end of the day, beer is and will always be the common denominator. 
Three questions brewers should ask about their current logistics model
Many breweries choose single-source logistics, so they will pick one of the larger nationwide players because they are able to get their products across the country with one phone call. However, this may not be the cheapest, most efficient, or quickest means of transportation. Brew Movers supports breweries to challenge the status quo of their current logistics model. They tell brewers to ask themselves three important questions:
Is it the cheapest?
Is it the most efficient?
Is it the fastest delivery?
Brew Movers encourages brewers to test their vendors to make sure they are getting the best rate at that moment, as well as transparency throughout the shipping journey. 
Unless breweries are in daily contact with carriers throughout the transit process, from pick up to delivery, important details may be missed and there can be a lack of visibility as to the location of the product. Working directly with a vendor's broker or large shipping company tends to give up that transparency. Whereas, when a brewery matures and takes on more logistics responsibilities, and partners with a company like Brew Movers to help manage their freight, they improve costs and transit times. 
The key is determining the best mode of transport for the product at the desired time in the production cycle. When breweries do this, they save time, and money, and have more transparency with their product along its journey. 
Three main freight cost drivers 
There is that old saying, you can get it good, fast, and cheap, but you can only choose two of those. The more lead time you have will eliminate the "fast" part of the equation and you'll get service that's good and cheap—the two most important factors.
"The more lead time you can give, usually the better you can position yourself on pricing because when you're scrambling last minute or you say, 'oh shoot we need this fruit to be here by next week,' and it's a five-day transit, well now you're putting everyone in a bind. A lot of the time you'll have to pay for guaranteed services or you may even need to use a team instead of a single driver," Brandon said. "The more prepared you are, and the more organized you are with the products you are bringing in, the better chance you have to save money."
Here are the three main drivers of freight costs:
Transit time
Fuel
Capacity and demand in certain locations
"We also talk to breweries about understanding freight as a component of your profit and loss statement at the end of the year," Adrian said. "Freight can be up to 40, 50, 60 percent of the product's total cost. It's all chewed up in freight."
Brew Movers eliminate a lot of the complexity of logistics for companies. There are many moving factors involved with cold chain shipping and Brew Movers stays on top of it all. They manage expectations, and in turn, help brewers understand the intricate process. In some cases, if breweries spend more on the front end of production, they can save on freight and ultimately reduce their bottom line.
The Pallet Parka
The way a brewery wraps and packages its product is incredibly important. Pallets touch a lot of docks, trailers, and more, so it's important to invest in protecting and securing products.  
The Brew Movers team identified a gap between dry LTL, which is not temperature controlled, versus refrigerated LTL shipping, and this is how the Pallet Parka was born.
"You can ship dry LTL, and [your product] will probably arrive faster but there's no temperature control. If I'm shipping fruited sours or hazy IPAs, if they start hitting 55 or 60 degrees [Farneheit], they are going to referment, cans are going to start popping, and it's going to be a big nightmare," Adrian said. "Your alternative to that is refrigerated LTL shipping and it is very unpredictable…The difference between dry LTL and refrigerated can be three, four, five times as expensive. If you are trying to get your product into a new market and be competitive, it's a big challenge." Adrian said.
The Pallet Parka was designed to help bridge this expensive gap for breweries in need of cold chain shipping. It is constructed to fit a standard pallet, 48 by 40 inches, and can accommodate up to 70 cases and all the way down to 40 cases. The packaging helps to preserve the core temperature of a commodity by insulating and protecting against convective and radiant heat transfer.
Download Pallet Parka's latest case study to learn more. Read a collection of case studies here.
Top reasons brewers work with Brew Movers and Pallet Parka
Expert understanding of the craft beverage industry
Deeply engrained in the close-knit craft beer and beverage community
Focused on family-owned and operated companies, breweries, and distributors that they can help grow and grow along with 
Cold chain shipping logistics are complex and Brew Movers and the Pallet Parka can simplify the process for brewers and other craft beverage companies to save them time and money every step of the way. 
Additional resources